News
Heartbreaking photos show college soccer star Thalia Chaverria celebrating birthday days before sudden death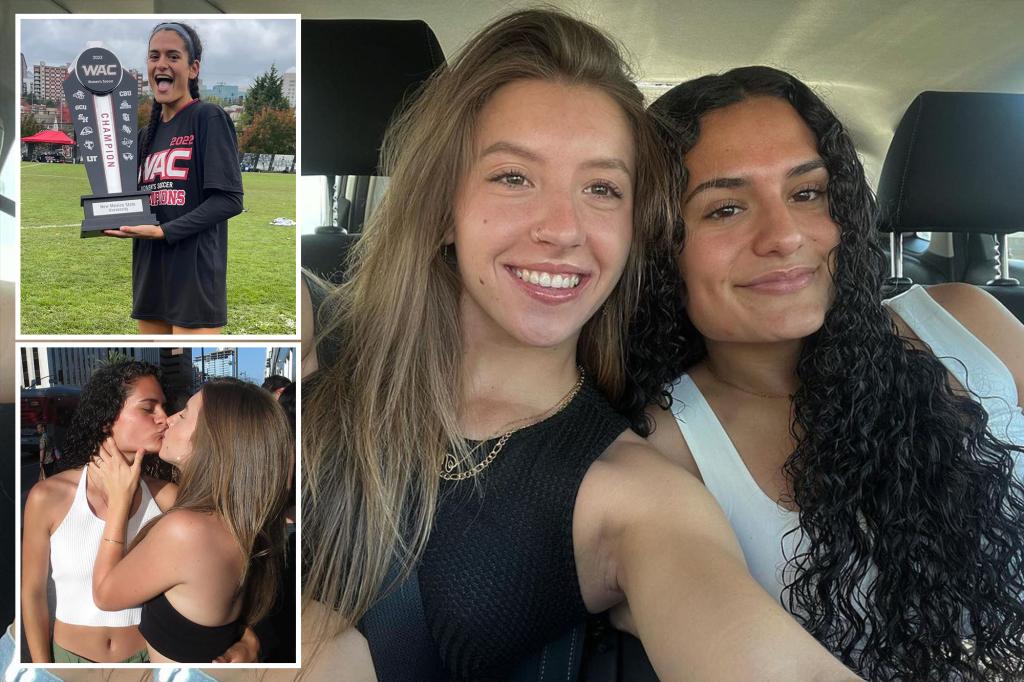 Heartbreaking photos have emerged showing the New Mexico college soccer star who died earlier this week celebrating her milestone birthday with her girlfriend just a few days before her sudden death – as friends and teammates remembered her as "the most beautiful person."
New Mexico State University women's soccer player Thalia Chaverria marked her 20th birthday on July 2 with a poignant selfie with her girlfriend, Gia Valenti.
"my girl's day. i love you so much," Valenti, who is a rising senior at NMSU and also plays for the Aggies, captioned the sweet snap on Instagram.
On the next slide, Valenti included a photo of the pair kissing on a sunlit sidewalk.
Just one week later, on Monday morning, Chaverria was found unresponsive at her Las Cruces home, and was pronounced dead by first responders.
Police are investigating the unexplained death, but added in a statement that detectives "have no reason to believe Thalia's death is suspicious or the result of criminal activity."
"1 year & 10 months…my girl forever, you know that," Valenti captioned an Instagram Story photo of Chaverria on Tuesday – though it is unclear if she knew of the 20-year-old's death at that time.
Angelissa Garza, a close friend from Chaverria's hometown of Bakersfield, Calif., wrote in an Instagram tribute on Wednesday that the death felt "so unreal."
"You are the most beautiful person I have ever met inside and out. You were the light to any room you walked in, you always made me smile and laugh when I was feeling down," Garza continued underneath a slideshow of the two women smiling at their high school graduation, as well as more recent memories.
A candlelight vigil in Chaverria's memory is set for Friday evening at the Surf Fields in Bakersfield, according to a post on Garza's Instagram story.
At the time of her death, Chaverria was set to start her junior year at NMSU, where she was a standout defender on the soccer pitch.
She was a fixture on the field during the Aggie's 2022-23 season, which culminated in the team's first conference title in the school's history.
In pictures shared on her mother's Facebook, Chaverria is seen celebrating the big win with her teammates and their families at a gala in March.
The NMSU soccer community honored their late teammate with a candlelight vigil on Wednesday night, a series of photos shared on the team's social media showed.
The light post's around the university's soccer field were also lit up purple in Chaverria's memory, while others wrapped lights around a tree hung with heart-shaped notes.
Megan Ormson, a forward for the Aggies, led the team's individual tributes to Chaverria by sharing a link to a GoFundMe for her teammate's grieving family on her Instagram Story.
The link, which was captioned with two purple hearts, was set against a photo of Ormson, Chaverria, and Valenti smiling in happier times.
"you're still the coolest person I know [for real]," Ormson wrote underneath a video of the three singing together at a concert.
Several other teammates also expressed their grief under the Aggies' official Instagram post announcing Chaverria's passing.
"Love you and miss you forever," midfielder Brooke Schultz wrote.
"Love and miss you so much T," Tati Jerman added.
"The sudden loss of Thalia has completely rocked our Aggie soccer families' world," head soccer coach Rob Baarts said on Tuesday.
"T was an inspiration and rock to this team. She will be missed but not forgotten. Her spirit will be with us every day, on and off the pitch. I will always love you T!"
Chaverria looked forward to her soccer career at NMSU in a touching video posted on Facebook in November 2020.
"Here's to a new chapter in my life…go Aggies!" Chaverria told the camera in the self-recorded footage shared by the Kern High School District page.
Less than three years later, Chaverria's heartbroken family is raising funds to bring her body home to California.
The GoFundMe, which launched on Tuesday, has already almost doubled its $15,000 goal.
"[Thalia] was loved by many," the page's emotional description reads.
"Her long beautiful curly hair and smile will forever be embedded in our memories."