Entertainment
Hera Pheri 3: Akshay Kumar, Paresh Rawal, & Sunil Shetty Begins Shooting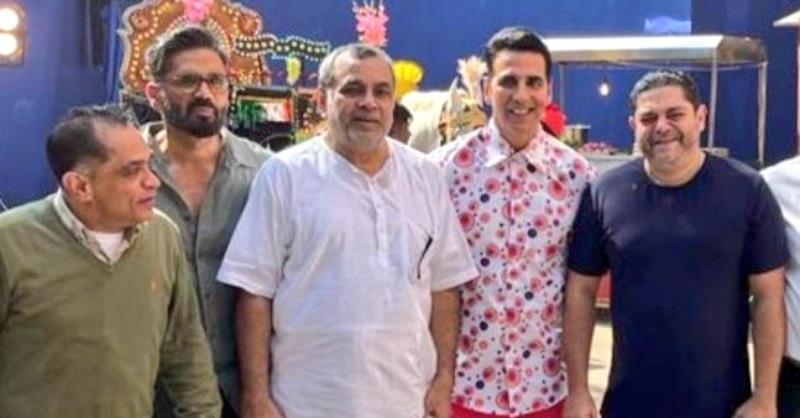 Hera Pheri, the iconic comedy film series that began in 2000, is set to return with its third installment, Hera Pheri 3. The film has been in the works for several years, with fans eagerly waiting for updates on the project.
Finally, it has been confirmed that the shooting for Hera Pheri 3 has begun, and the original trio of Akshay Kumar, Suniel Shetty, and Paresh Rawal is back together.
The chemistry among the three actors was one of the key reasons for the success of the first two films. Their impeccable comic timing and the ability to improvise made Hera Pheri one of the most loved comedy franchises in Indian cinema.
The long delay in Hera Pheri 3 was a cause for concern among fans, but with the shooting now underway, there is renewed hope for the project.
The original announcement for Hera Pheri 3 had come with a twist – John Abraham and Abhishek Bachchan were to join the cast. However, due to various reasons, including scheduling conflicts, the two actors eventually had to opt-out of the film. There were also rumors that Kartik Aaryan had replaced Akshay Kumar as Raju in the film.
Akshay Kumar Rejoins The Cast Of Hera Pheri 3
The news of Kartik Aaryan's casting was met with mixed reactions from fans. While some were excited to see the young actor in the film, others felt that he wouldn't be able to match up to the original trio's chemistry. However, the rumors were put to rest when it was confirmed that Akshay Kumar had indeed joined the cast of Hera Pheri 3.
Akshay Kumar's return to the franchise was a much-needed boost for fans who had been waiting for the film for years. The actor's comic timing and on-screen presence have been a crucial factor in the success of the previous films, and fans are eagerly looking forward to his performance in Hera Pheri 3.
In conclusion, Hera Pheri 3 is a highly anticipated film that has been in the works for several years. With the original trio of Akshay Kumar, Suniel Shetty, and Paresh Rawal back together, fans can expect the same level of comedy and entertainment that they experienced in the previous films.
While there were rumors of Kartik Aaryan replacing Akshay Kumar, the actor's return to the franchise has renewed hope among fans, and they are eagerly waiting for the film's release.