News
Here's the reason scantily clad women brawled on a Las Vegas casino floor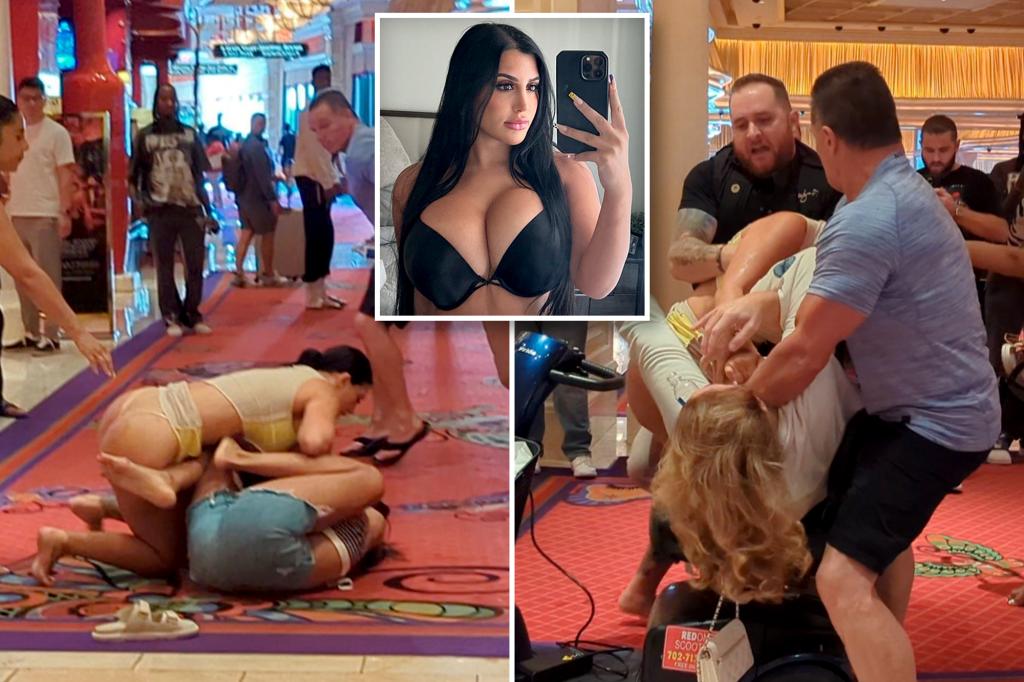 The caught-on-camera brawl between scantily clad women inside a lavish Las Vegas hotel allegedly erupted after one of the fist-hurling participants caught her husband sleeping with an OnlyFans model.
The viral melee — featuring hair pulling, shoe-throwing, and violent punching on the casino floor — kicked off after the sex worker and her friend returned to the Encore at Wynn Las Vegas just before 6 p.m. July 9, according to redacted arrest documents obtained by Fox News.
OnlyFans model Danielle Pertusiello, 24, admitted to cops that she played a role in the vicious tussle, which was so scrappy that her miniskirt was hiked up around her waist and exposed her bum for the entire duration.
The New York native alleges that she and pal, Amanda Collado, 29, had been walking into the hotel's bathrooms after leaving a rooftop pool party when they were both "hit from behind by closed fists in the back of the head," the records said.
"Danielle turned and immediately recognized her attack[er]," the Las Vegas Metropolitan Police Department reported.
Pertusiello admitted to cops that she "has been dating/sleeping with a married man" and that the presumed wife had caught the two-timing man "cheating on her with Danielle."
Both the names of the betrayed woman and her adulterous husband — who was not in Sin City during the fight — were redacted from the police report.
After viewing security footage, however, police discovered that the wife and her unnamed friend had merely tapped Pertusiello and Collado on the shoulders when they walked into the casino.
Almost immediately, "all four females start throwing punches at each other."
The fracas shows security and bystanders desperately trying to end the scuffle as poker players sitting at surrounding tables try to focus on their games.
Pertusiello — whose bottom half was only covered by her barely-there thong — grappled and kicked with another woman in jean shorts as their respective friends look on.
That's when a woman in cream sweats lunges toward Pertusiello and Collado, who had been standing behind her friend with a supportive hand on her arm.
One man successfully separates Pertusiello and her opponents by pushing the women against the wall, but Pertusiello quickly pursues and tosses a pink heel at the restrained ladies.
Pertusiello then pounces on the woman in sweats as she struggles on top of a motorized scooter, while the woman's friend fiercely yanks on the OnlyFans model's hair.
Pertusiello proudly took to Twitter last week to brag that she was the fighter with the exposed backside.
"In case anyone wanted to know I'm the first girl. Link in bio," she wrote, referencing her various sex networking accounts.
Due to the document's redactions, it is unclear which bruiser was the spurned woman and who was her fighting friend.
Police tried to interview the betrayed wife, but said she had cleared out from the hotel before they could pay her a visit.
She also thwarted calls to her phone, according to cops.
Pertusiello and Collado were issued citations for disorderly conduct and released.