Entertainment
Howard Stern's wife Beth Ostrosky Stern, 50, sizzles in sexy bikini photos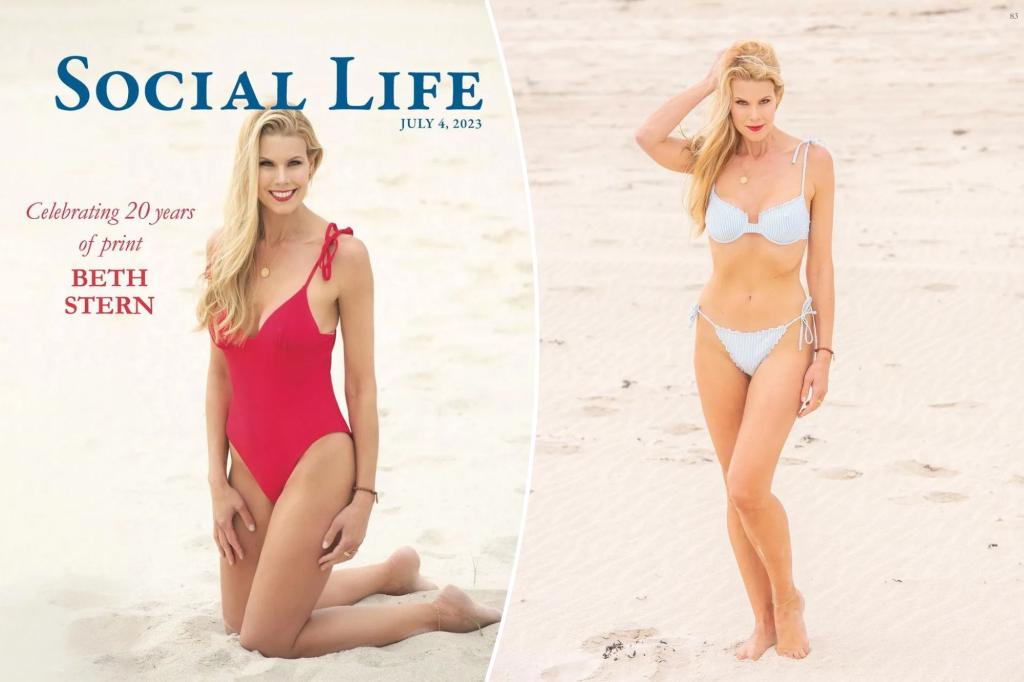 Life's just beachy for Beth Ostrosky Stern, who flaunted her toned physique for the cover of Social Life Magazine.
Beth, who is the wife of radio personality Howard Stern, sported various pieces of swimwear for a shoot captured by her hubby in Southampton.
The "Flirting With Disaster" actress, 50, sizzled in a red-hot one-piece for the publication's cover in celebration of its 20th anniversary, matching her cherry red lip stain that framed a pearly white smile.
In one snap, she stared into the lens, donning the same lipstick but a change in costume. This time, she flaunted a blue and white striped string bikini while standing on the shore and running her fingers through her blond tresses.
Another image showed Beth gracefully running down the boardwalk in a flowing chiffon gown.
"Thank you thank you thank you @sociallifemagazine for still thinking I'm cover material… and letting me share about my rescue work… you all have my heart," she thanked the mag on Instagram this week following the issue's release on July 4.
While Beth and Howard met in 2000, the lovebirds didn't tie the knot until 2008, after which she largely stepped out of the limelight to focus on cat rescue and adoptions, eventually co-founding her own center called Bianca's Furry Friends Feline in 2019.
Currently, she's fostering more than a dozen kitties in the couple's colossal $25 million, eight-bedroom, 12-bathroom mansion in the Hamptons, which sprawls 15,000 square feet atop more than 4 acres of land.
"People think my life is so very glamorous with Howard and that I have other people doing the messy part of pet foster work," she told Social Life Magazine. "Not true! I am currently fostering 19 kittens and adult/senior cats. That's a lot of poop to scoop."
Since she doesn't have biological children of her own, she's taken on animal fostering as a top priority, she said.
"What I have chosen to do with my life is a passion and a 24/7 commitment," shared Beth, who revealed she also owns seven "resident cats," most of which have special needs, and one "resident bunny."
But retreating from Hollywood's dazzle hasn't made the animal-lover immune to hateful internet trolls and a "darker" and "stressful" side of social media, she revealed to the magazine.
While it's "amazing" that she has a wide reach online to further her meaningful work, "blocking has become a necessity" to protect her peace.
"Every day, I block about 10 to 15 people who have commented nasty things and hurt my feelings regarding my rescue work," she admitted, adding that "criticism is painful," but she finds "solace" in meditation, as well as snuggling with her pets.
On Instagram, where she has racked up almost 800,000 followers, she posts snaps of her doing just that — cuddling up with one of her many foster felines on the couch or holding the teeny kitties in her hands.
"I remind myself that every day I am fortunate to be able to save lives, and I'm doing my best," she said. "I have to stay focused on my mission and resist the temptation to respond to criticism, as my husband advises."