News
I fell for a free lip filler offer my face doubled in size and it hurt like hell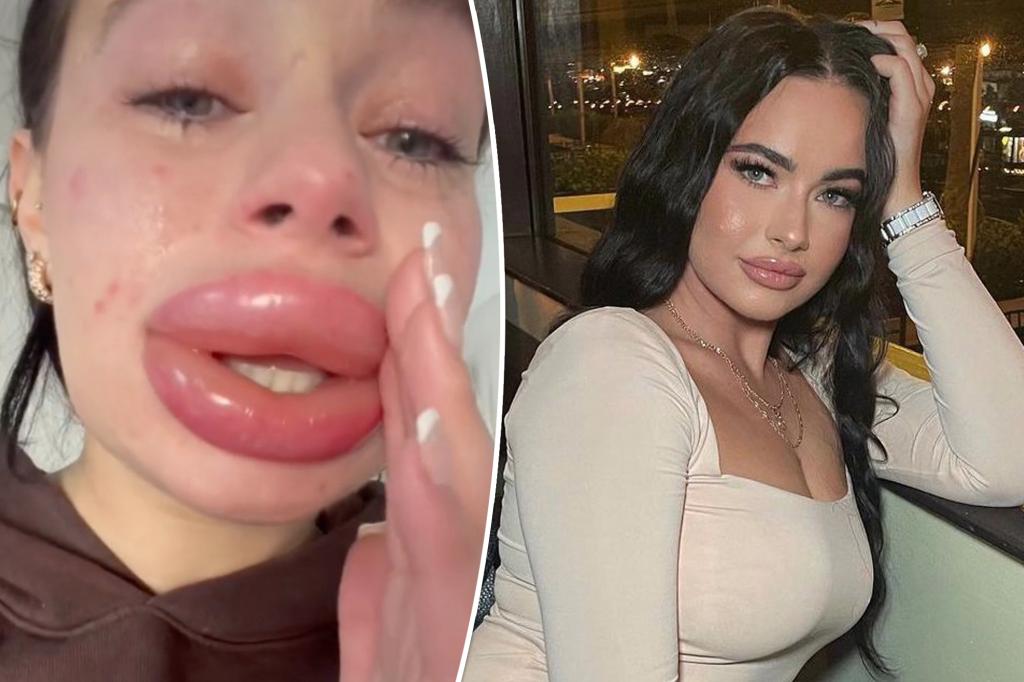 A woman who went viral on TikTok and horrified viewers with the results of her free but painful botched lip filler procedure is warning others to beware of free online offers and instead seek out medical professionals.
Jessica Burko, 28, was excited when she won an Instagram giveaway for free fillers — but that feeling didn't last long.
Burko had received fillers before but hadn't had the cosmetic procedure done in about a year before heading in for her free touch-up.
But instead of getting a juicy pout, the woman was left with painful lips that swelled to "twice" their normal size.
The brunette beauty turned to TikTok where she posted the before and after shots that horrified viewers.
"I went to go get my lips done yesterday, and something bad happened," she said in a TikTok video.
The shots showed her at the clinic with numbing cream on her lips before cutting away to show her lips dramatically swollen to practically double their size.
"I honestly don't know what went wrong, I had my lips done multiple times," Burko said.
"This doctor was doing a giveaway. He did everything he was supposed to do. Immediately after he injected me, I looked in the mirror and realized how swollen I was."
She explained that by the time she walked to her car, she realized that her lips were "not normal" and returned to the doctor who prescribed her a steroid cream, but it unfortunately didn't work.
"It hurt like hell, which was weird because I know it shouldn't," she told NeedToKnow.co.uk.
"My skin went extremely red practically immediately after. I knew that definitely wasn't normal.
"When I got home, the lips were the size in the video. My face started to swell up and drop."
In the video, Burko showed a side angle of her face, revealing how swollen it had gotten.
She followed up to explain that she later went to a different beauty studio to have them dissolved.
"After dissolving, my lips went down fast and my face was sagging, but after a full week I was back to normal," she said.
Even after her botched procedure, Burko wasn't turned off from the procedure forever.
Once her fillers dissolved, she went back to her original injector to have her lips done right.
"What I would tell anyone is – please do research, if you found someone you love and does an amazing job, stick with them," she advised.
"If you plan to go to anyone else, make sure you ask questions and be 100% sure that they can do what you ask or know how to do the work you want."
She warns people who are interested in a little plump-up not to "just jump in because it sounds good or there is a deal going on."
"Do your research, and stick to who you know."