Entertainment
I spent $4K consuming clay while pregnant — and I still crave it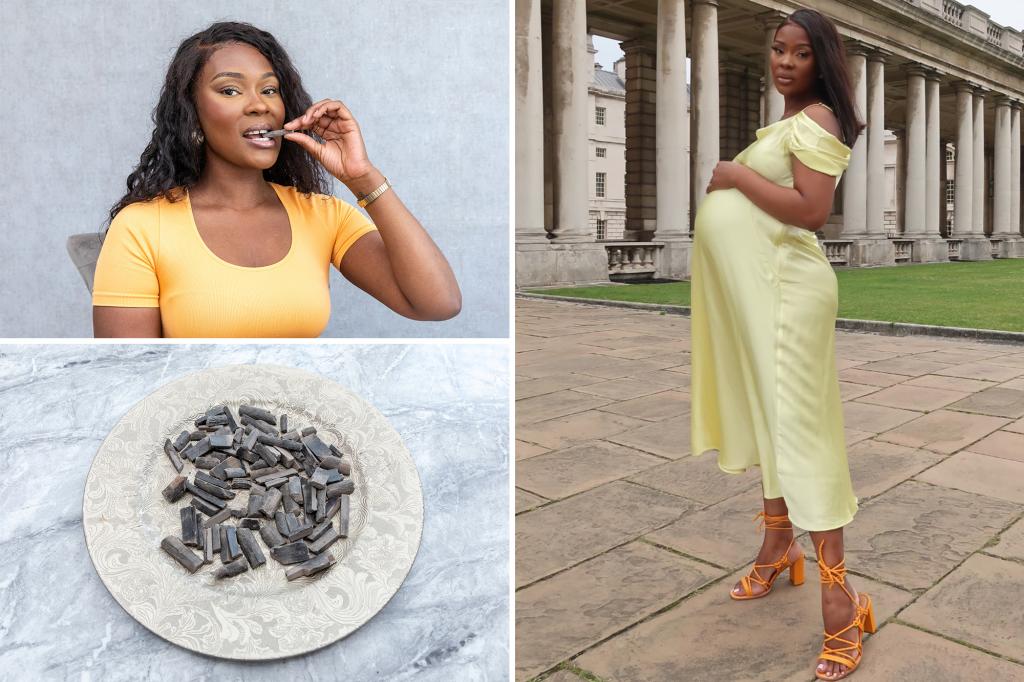 While most pregnant women may crave pickles and ice cream, all this woman from London wanted to do was eat clay.
Dymund Dina, 31, began craving clay during her first pregnancy with her son in 2013 and has since spent more than $3,800 (£3,000) on the sedimentary snack.
"When I was pregnant I'd get through ten bags a day, it was such a strong craving," Dymund told South West News Service. "Each bag is roughly two grams."
"I still can't get enough and eat clay every day, and I'm not even pregnant anymore!"
However, the kind of clay that Dymund likes to eat is completely edible, and she claimed that it even helped curb her morning sickness.
The clay is called mabele, an edible clay that comes from The Democratic Republic of the Congo and other neighboring countries, according to Alowa Foods.
The clay is sometimes used traditionally during pregnancy and is said to help to prevent nausea and vomiting. It can also be used to help gastric disorders, purify water and improve the skin, per Alowa Foods.
"Mabele has a really distinctive smell, and when I was pregnant I was obsessed with it," Dymund explained.
"It smells like fresh rain in summer — that's the only way I can describe it."
Dymund, who works as a content creator, explained that she began craving the clay after she sniffed and smelled washing powder.
In the early weeks of her pregnancy, Dymund suffered from morning sickness and nausea, and had been feeling too sick to eat anything.
But when she was 12 weeks along, she found herself craving the clay and as she went into her second trimester, Dymund found that it really helped with her nausea, along with eating ice.
And it looks like Dymund isn't the only pregnant woman who has had the urge to eat clay, according to Healthline — it's a phenomenon, called pica, that happens to many.
Pica is "the practice of craving substances with little or no nutritional value," per American Pregnancy, and although it's unclear why exactly it happens, the urge can sometimes be linked to iron deficiencies.
During her first pregnancy, Dymund began buying the clay from local shops in her area that imported it from The Democratic Republic of the Congo, but she would buy so much that the stores would sometimes run out of stock, leaving her partner, Jay King, 38, driving all around town just to find some.
"Sometimes Jay would have to travel over an hour to find some for me," Dymund said.
"He absolutely hates the smell and doesn't understand why I love it so much."
Once, Dymund was so desperate to get her fix, that she asked her cousin, Naomi Mpia, 29, who lives in France, to send some to her.
However, the use of mabele in her family is nothing new. Dymund said that her mom, Odette, had eaten it while she was pregnant as well, so she's always known about it.
Over the past few years, Dymund has gone on to have three more pregnancies and four more children — twins, Kai and Kylee, seven, Keziah, five and Kiana, one.
The content creator estimates that she's spent around $1,000 on the clay during each of her pregnancies, and nearly $4,000 in total on the craving over the past ten years.
And, throughout her pregnancies, the craving for clay didn't go away. In fact, she continues to eat it today, despite no longer being pregnant, and describes her fondness towards the clay as an "addiction."
"I'm obsessed with the taste and texture, I just can't get enough of it," Dymund told SWNS. "I only like salty tasting mabele. If I buy some that's not salty, I have to go out and find more."
"Even talking about it makes my mouth water."