News
I'm offering a $5,000 referral bonus to anyone who finds me a husband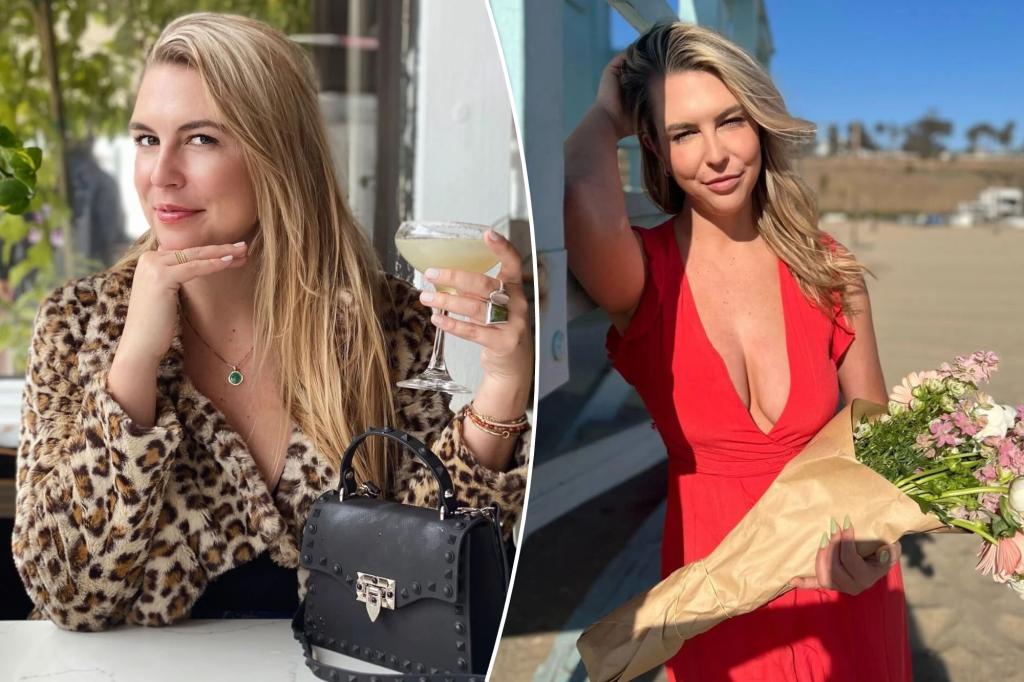 Who says money can't buy love?
Sick of being single, a wannabe bride is offering a hefty "referral bonus" to anyone who successfully finds her a groom.
"A while ago, I told my friends I'd pay them $5,000 if they introduce me to my husband," Eve Tilley-Coulson, 35, a corporate litigation attorney, from Los Angeles, told The Post. "And I figured, why not open the offer up to TikTok?"
So in June, the blond virally shared her matchmaking call-to-action online, promising her more than 100,000 TikTok followers: "If you introduce me to my husband, and I marry him, I will give you $5,000." 
The eye-popping proposal raked in more than 556,000 views — and between 20 to 25 digital introductions to potential life partners via rookie marriage brokers, Tilley-Couslon told The Post.
"I haven't gone on any dates yet," said Tilley-Couslon, adding that most of her intermediaries have been women who spotted her eye-popping proposal on social media. "But people are definitely motivated to help."
And she thinks her incentive price is just right.
"I've been single for about five years now, meeting people in person and on the apps," she explained. "But since COVID, there's been a weird shift in dating culture — guys don't approach you in person, and most of the men on apps aren't swiping to seriously date.
"So I feel like paying $5,000 for a husband who's vouched for, meets my needs and is ready for a real relationship is totally worth it," said Tilley-Coulson with a laugh. 
Her online proposition, though monetarily attractive, isn't entirely uncommon.
Under the ever-trending TikTok hashtag #HelpMeFindHim, with more than 321.5 million views, lovesick romantics share their digital pleas for social media's help in landing an ideal partner. 
However, most folks using the popular stamp as a virtual "S.O.S." are looking to be reconnecting with a hunk they'd previously encountered in passing — and almost none of them are sweetening the deal by dangling a sizable sack of cash like Tilley-Coulson.
But there are strict rules of play in her matchmaking game. 
"You get [the $5,000] as soon as the marriage certificate is signed," said Tilley-Coulson in a subsequent TikTok clip featuring her non-nonsense friend Lara Bahr.
"He has to be eligible," added Bahr, a lawyer.
"That means he cannot be already married," she continued. "This can't be his second wife."
Tilley-Coulson then outlined her non-negotiables of her hottie-in-holy matrimony, insisting worthy candidates must fall within the age range of 27 to 40, stand 5-foot-11 or taller, boast a witty "British" sense of humor and have strong affinities for sports, animals, and kids.
Haters online bashed her height minimum, doubting she'd find the love of her life in the skimpy 14.5% of U.S. men who measure over 6 feet tall, per recent research.
But the marriage-minded honey told The Post she's not backing down from her tall order — sorry, short kings!
"The only real physical requirement that I have is that he must be tall because I'm tall," said Tilley-Coulson, who stands about 5-foot-10. "I've dated men who are insecure about my height, asking me not to wear heels, and that didn't make me feel good."
When it comes to looks, she's less picky.
However, on TikTok, the beau-seeking belle did point to Hollywood heartthrobs such as "Gossip Girl" star Chuck Bass, 32, and Oscars winner Matthew McConaughey, 53, as prime examples of faces she'd love to date.
Political views, religious beliefs, and ethnicity aren't deal breakers for Tilley-Coulson — who joked she's so ready for love that she'll "date a rock with charisma." 
Whether the guy has a college degree or a car is, too, neither here nor there for the singleton.
And she's open to being in a long-distance relationship if Mr. Right is game. 
She's just ready to settle down with her forever person.
"My perfect guy is the perfect wedding date: He can take a shot with my brother, dance with my grandma, he knows how to work the room but also comes back to check on me," said Tilley-Coulson. "He's a well-rounded chameleon."
And although she said a handful of virtual trolls have called her "desperate" for offering up a $5,000 husband commission, Tilley-Coulson is confident in her strategy.
"I stand by it," she told The Post. "Hey, if you help me meet him, the money is yours."