After nearly two years away the steamiest and most chaotic show on Netflix Sex/Life has finally returned for season two and we could not be happier.
The drama series is essentially about a love triangle between a woman named Billie (Sarah Shahi), her husband Cooper (Mike Vogel), and her ex-lover Brad (Adam Demos).
Sex/Life season two opens up right where it left off with Billie at Brad's door, except it's not quite the happy ending we were expecting. Brad tells Billie he is in a new relationship and his girlfriend Gigi (Wallis Day) is pregnant. This news is just the beginning of a series of wild moments in Sex/Life season two including new relationships, the return of an old flame, and many intense sex scenes.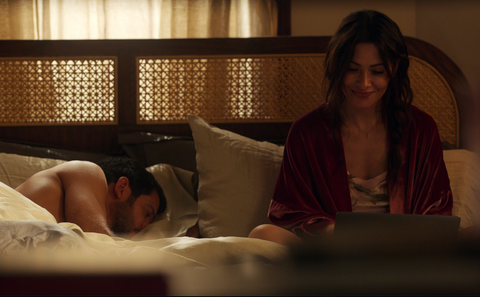 The series ends with the majority of the characters in very different places to how they started they series. So what exactly happened in the final episode of Sex/Life season two? This is everything you need to know.
What happens with Cooper's arrest?
At the end of episode five after a truly wild afternoon of sex, drugs and alcohol Cooper and Devon take their new cars for a spin, which results in a car crash caused by Cooper.
The final episode opens with Billie accompanying Cooper to the police station and taking him home after, where he confesses that Billie is the love of his life.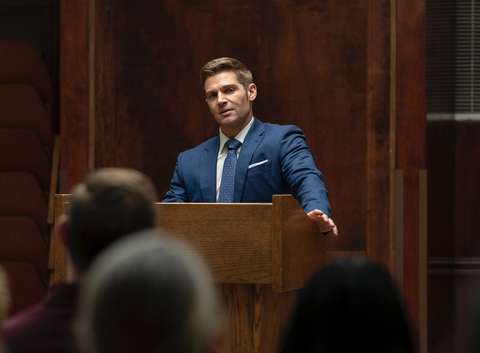 Cooper is later seen at an AA (alcoholics anonymous) meeting where he reveals he is 30 days sober and meets up with his brother Spencer (Dylan Bruce). Cooper thanks Spencer for keeping him out of jail, who confirms Cooper avoided jail by paying a hefty fine and doing community service.
Spencer also reveals to Cooper, the two sex workers involved in the crash, Bianca and Piper, agreed to settle the lawsuit against Cooper.
What happens with Billie and Majid?
Throughout Billie's relationship with restaurant owner Majid (Darius Homayoun), the recurring problem is that Billie is a mother and Majid has no idea what to do when it comes to kids.
This all comes to a head in the final episode when Majid offers to take Billie's son Hudson to a Yankees game. However, they don't end up going to the game as Majid is called into his restaurant.
There, Majid leaves Hudson alone to sort out an issue, Hudson goes wandering around the restaurant and inadvertently causes a fire in the restaurant. He runs away after Majid shouts at him.
Thankfully, Hudson is found by Billie and Brad, who remembers how much Hudson likes the park and they find him there.
By the end of the episode Billie realises she can't have a relationship with someone who isn't comfortable with her whole life, including being a mother, and so she ends her relationship with Majid.
Does Sasha end up with Kam?
Season two of Sex/Life gives Billie's best friend Sasha (Margaret Odette) a much bigger storyline than the first, as her former fiancé Kam (Cleo Anthony) returns.
We learn that Kam and Sasha were once engaged, and Kam wanted Sasha to follow him to Los Angeles in order for him to pursue his medical degree. Sasha's grandma convinces her not to go so she can focus on herself.
Kam returns 17 years later, wanting a future with Sasha. Throughout the season Sasha grapples with wanting to be in a relationship with Kam, whilst also pursuing her career which becomes successful thanks to the 'independent woman' image she puts across.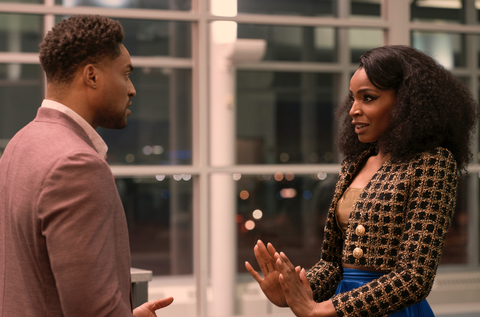 Her agent Mick (Craig Bierko) says she needs to break up with Kam in order to maintain her image and career. She later comes to regret this and the pair soon reunite.
Again, Kam asks Sasha to follow him across the world in order for him to follow his dreams. Sasha eventually decides to go with him and races to the airport to find Kam. However, she can't go with him to Singapore as Kam has decided to stay in New York for Sasha.
By the end of the final episode we see the pair happily married.
What happens with Trina and Devon?
Trina (Amber Goldfarb) and Devon (Jonathan Sadowski) are Billie and Cooper's neighbours who decide to get divorced in season two after Trina is somewhat inspired by Billie.
During the season Trina and Cooper attempt to sleep together, until they're discovered by Billie and Cooper's son in the most awkward situation possible (we will never get over that handcuffs scene).
Trina tries to go back to her old job, but discovers she is out of her depth in the new job market. Instead, we find out by the end of the season she has become a vaginal workout expert, teaching women how to have better sex.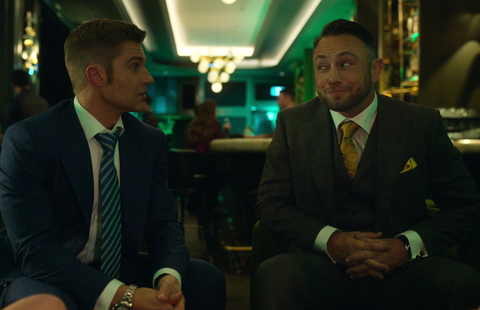 Devon spends most of the season accompanying Cooper on their 'post-divorce tour', having sex with multiple women, getting drunk a lot of the time and buying expensive cars.
In the final episode we learn Devon has had his penis reconstructed after the car crash in episode five and is intending to put his new penis to good use by having sex with more women.
What happens to Cooper and Emily?
Emily (Hannah Galway) is Cooper's ex before his relationship with Billie, who Devon tries to set him back up with in season one.
In season two Cooper runs into Emily at a bar where she tells him she can't be with him until he figures out how he feels about his divorce.
During the final episode of season two Cooper tells Devon he's thinking about contacting Emily. After the fire at the restaurant Cooper goes to Emily's place where she is celebrating her birthday. In front of all her friends he confesses his feelings for her.
Later in the episode the couple are seen together celebrating Billie's graduation. Cooper tells Billie Emily is the love of his life and he is planning to propose to her.
Who does Billie end up with?
After six episodes we finally get to see who Billie chooses to be with, and of course she ends up with Brad. But it wasn't exactly a smooth journey getting there.
At the start of the season Brad tells Billie he is in a new relationship with a model called Gigi and she is pregnant with their child. Though he often fantasies about Billie, Brad proposes to Gigi and they get married in Mexico.
After returning from their honeymoon, Gigi starts to suspect Brad still cares about Billie and bans him from seeing her. However, after his company is hit with a massive lawsuit Brad sees Billie, with the pair almost kissing.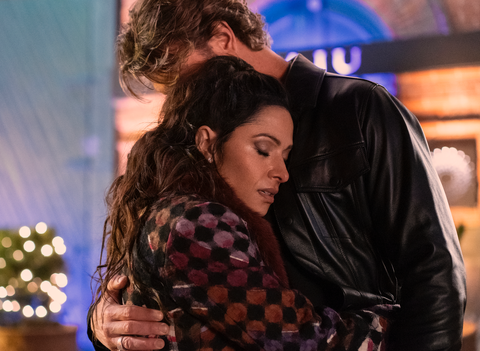 By the end of episode six Gigi has had their son, but the pair have broken up and Gigi is now dating someone new.
At this point Billie has ended her relationship with Majid and is thriving in her single era, living in New York and getting her Ph.D.
Brad turns up at Sasha's wedding where he confesses Billie is the one for him. The two kiss and the scene flashes forward to their wedding day, where Billie tells Brad she's pregnant.
We love a happy ending, the only question now is, will we see Billie and Brad again for a season three?
Sex/Life season two is available on Netflix now