News
NYC college grad says viral mic drop justified because she's 'black woman in America': 'I am always in the right'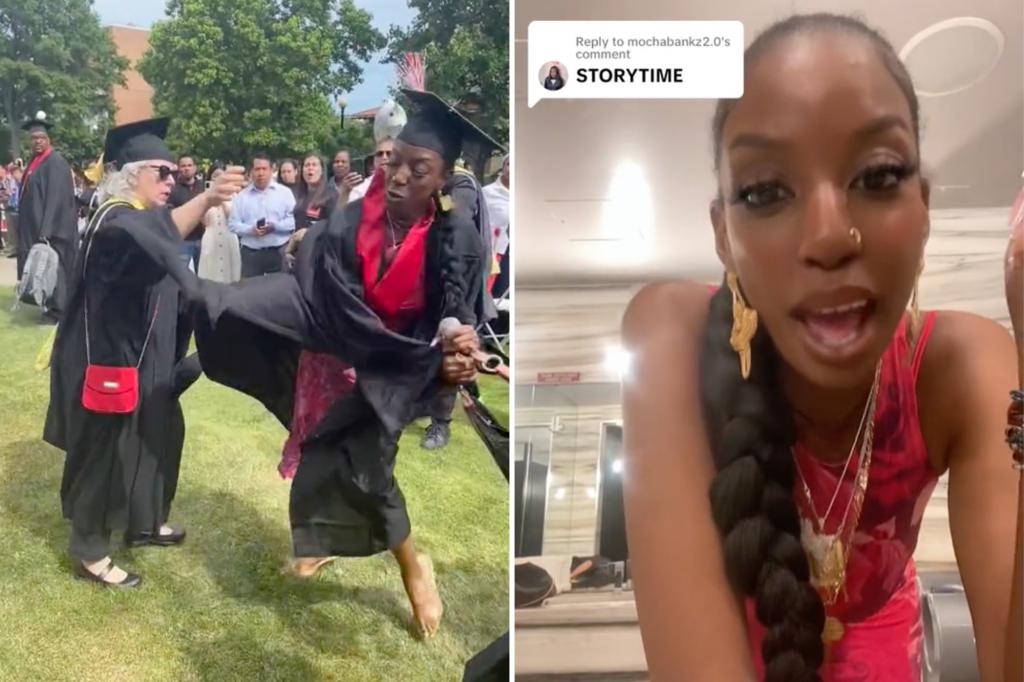 A black graduate of a Queens community college has defended her viral mic drop — declaring that she is not the "bad guy" for grabbing a microphone from a white educator over a name snub.
"To everyone saying I should be embarrassed or I'll never get a job … I'm a black woman in America," Kadia Iman, a digital content creator and OnlyFans model who apparently graduated from LaGuardia Community College, said on social media.
"I am always in the right … u will not gaslight me into thinking I'm the bad guy. I did it for girls that look like me. Love u," she added defiantly.
On Wednesday, Iman posted video on TikTok — where she has over 18,000 followers — of her snatching the microphone out of the hands of the white woman, who tried to fight her off but quickly lost her grip, on the campus of Queens College, where the ceremony took place.
"I want the mic! Let go! You didn't let me get my moment," Iman, wearing a pink-topped cap and black gown, said before loudly stating her name to the stunned onlookers.
"I'm graduating today. I don't like how you snatched the mic out of my hand, so today is going to be all about me!" she adds before dropping the mic and storming off.
The short clip appears to have been deleted from Iman's TikTok page, but the footage continues to circulate online and has been viewed millions of times.
Maria Matteo, a spokeswoman for Queens College, told The Post on Friday that Iman was at LaGuardia Community College's graduation ceremony on the Queens College campus.
A spokeswoman for LaGuardia Community College did not immediately respond to a request for comment.
Efforts to reach the young woman have been unsuccessful.
In a follow-up video, Iman went into detail about the incident.
"Basically, what happened was I was walking on and we had to say our names before we get on the stage," she said. "So I was saying my name and she literally — my name is long, obviously, I have like three syllables in my name.
"So, I didn't even get to finish saying my name, and then the people that went before me, they all got to say their name, their major, and even extras," Iman continues.
"Me and another girl noticed that she was pulling the mic down super fast for some black people — I don't want to be that person, so I just couldn't let her … I just couldn't let that happen," she explains.
"I just feel like I worked so hard to graduate and went through so much s–t to graduate that I just felt like I had to reclaim my moment. I'm sorry. I'm not a problematic person. I don't want to ruin no one's day," Iman says.
TikTok users rushed to her defense.
"I'm so sorry you had to go through that, but I'm glad you had your moment. Very well deserved. Congratulations btw," one person wrote.
"They think we're playing with them, you stood up for the girls who weren't comfortable saying it out loud good job!" another said.
"All the black girls stand up," a third added.
But one conservative political commentator had some harsh words for the new graduate.
"'Today is all about me' says the most uninteresting and unimpressive person you'll ever encounter. It's always the dullest, blandest nobodies who think they're the main characters," tweeted podcast host Matt Walsh, a columnist for the Daily Wire.
"Also, I guarantee this person writes at a fourth grade level and can't name five US presidents. These are the people graduating from universities these days. Childish morons with egos the size of Jupiter," he added.